Black and white artwork is a classic method to give your walls character and style. Black and white wall art may complement any interior, whether you're going for an abstract or traditional appearance. Black and white wall art comes in a variety of forms, from contemporary prints with dramatic patterns to antique images of well-known sites. This blog post will cover many varieties of black and white wall art, their uses, the best places to get it, and the best methods for hanging it so that it always looks its best.
Table of Contents:
Types of Black and White Wall Art
Black and white wall art typically consists of paintings. They come in many different mediums and styles, from watercolor to oil to acrylic to pastel, and can be either abstract or representational. Paintings are a great way to spruce up your walls with texture and make a statement.
Black and white prints are another common choice for decorating a room. Pictures in prints can range from simple line drawings to those with rich, highly detailed illustrations. Digital printing technology has enabled the creation of a wide variety of print mediums, including canvas and paper, that feature inks that are resistant to fading over time.
Photographs, as mementos of precious times past, are wonderful additions to any interior design concept. High degrees of contrast in black and white images allow them to stand out from the background of a multicolored room. Whether you go for current photographs or vintage ones, decorating with photographs will give any room a one-of-a-kind feel.
Displaying a piece of black-and-white painting or photograph on a wall is a terrific method to improve the aesthetics, longevity, and adaptability of any room. You can find anything that fits your needs and budget from the many choices presented. Let's take a look at the upsides of monochrome wall art now.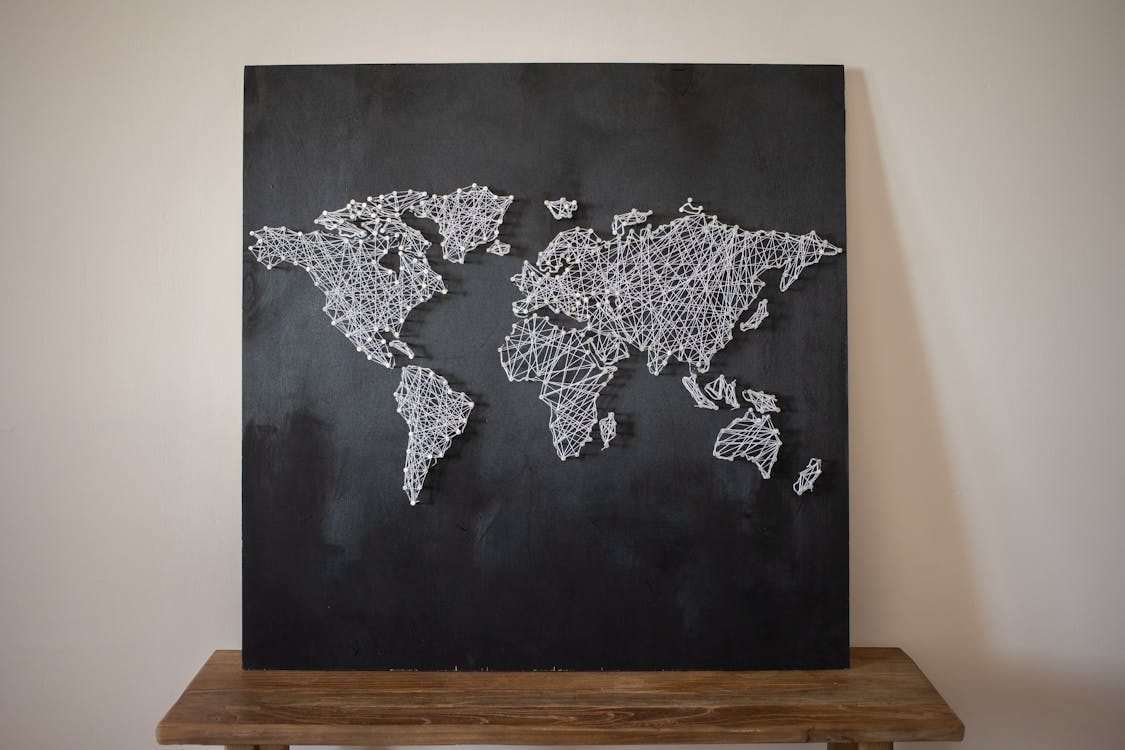 Benefits of Black and White Wall Art
Timelessness:
It is equally at home in more conventional settings as in more cutting-edge contemporary ones. Black and white artwork is a great option for individuals who want their home to look current for the long haul due to its timeless aesthetic.
Versatility:
Wall decor in black and white can complement a variety of aesthetics. In addition to the aforementioned, it may also be employed in the likes of bedrooms, living rooms, corridors, kitchens, bathrooms, workplaces, and more. The neutral tones also make it simple to incorporate new items of decor without worrying about the room becoming cluttered.
Last but not least, because of its widespread appeal, black-and-white wall art is frequently available at a discount from its more elaborate counterparts. There is no need to go into debt to incorporate this style of artwork into your home's design because many stores provide selections that are both cheap and of great quality. Also, if you're looking for something genuinely one-of-a-kind, you can discover great deals on vintage and antique goods at flea markets and thrift shops.
The classic beauty and elegance of black and white wall art can be yours at a reasonable price. There are many possibilities to choose from, whether you want a timeless classic or a one-of-a-kind creation. We should look into stores that sell monochrome paintings.
Where to Buy Black and White Wall Art
Online Retailers:
It's possible to find works of art for your walls that are truly one-of-a-kind when you shop online. Black and white prints and images of various quality can be found at a variety of pricing points at online art galleries and shops. You can usually get a good sense of the product's quality before you buy it by reading the many websites' reviews. One drawback is that it can be hard to imagine how the artwork would look in real life before actually viewing it.
Local Galleries & Stores:
When on the hunt for black and white wall art, it never hurts to check out what's available in your neighborhood. Staff at such shops are usually well-versed in the items they sell and can help you through the store's offerings and answer any questions you may have. In addition, having a close-up look at the artwork before purchasing it is the best way to ensure that it is precisely what you had in mind. However, because to the increased overhead costs of operating a brick-and-mortar store or gallery, prices are typically higher than those found online.
There is always the option of having something produced specifically for you if none of the ready-made choices suits your requirements or personal taste. It's possible to get exactly what you want without breaking the budget by either commissioning an artist directly or collaborating with a printing company that specializes in generating custom prints on demand. Although this approach requires more work up front, it may yield stunning, one-of-a-kind wall art that complements any kind of decor.
Key Takeaway: Finding the perfect black and white wall art can be achieved by shopping online, visiting local galleriesstores, or commissioning an artist. Online offers a wide selection at varying price points, while local stores offer knowledgeable staff and up close viewing of artwork. Customization is also possible for unique pieces.
How to Hang Black and White Wall Art
Measurement & Placement Considerations:
Think about the size of the piece and where you want to display it before you get started hanging your black and white wall art. Consider the artwork's dimensions before choose which wall or walls to hang it on. When making this choice, you should also consider whether or not any nearby furniture would obscure or detract from the artwork.
Hanging Hardware & Tools Needed:
Finding the perfect spot for your monochromatic wall art is the first step in getting started. Tools such as a hammer, nails or screws depending on the kind of wall material (drywall or plaster), a leveler tool for precision, a measuring tape for correct positioning, and painter's tape, if necessary, for further security while hanging the piece (s).
Finally, one by one, insert nails or screws into the specified holes to attach the parts together; if necessary, use anchors. At last, you can hang the artwork using the freshly fitted hardware and take a break to appreciate your handiwork.
FAQs in Relation to Black and White Wall Art
What is black and white art called?
Monochrome art is another name for black-and-white paintings. Pencil, charcoal, ink, and paint are just a few of the many tools at an artist's disposal for producing monochrome works of art. The striking visual contrast between the black and white aspects of this sort of artwork is what makes it so striking. Subtle tonal shifts can be made using it, giving the piece more dimension. Many people choose to decorate their homes with monochrome artwork because of how well it complements a wide variety of aesthetics.
What kind of wall art is most popular?
Abstract paintings are the most well-liked option for decorating a room's walls. Bright hues, strong lines, and interesting textures characterize abstract art, which can be used to update any space with a contemporary aesthetic. It can also be used in both modern and classic settings with equal ease. Any area can benefit from the addition of an abstract work of art, whether it serves as the showpiece or an afterthought. Also, it's not hard to discover wall decor that goes with your current furnishings and color scheme.
Where can I get free wall art?
Obtaining no cost artwork for your walls can be done in a number of different methods. Finding websites that provide digital artwork for free download is one option. These are perfect for printing out and framing, or just hanging up on the wall as is. Another choice is to seek out local artists who may make their work, such as prints, posters, or other items, freely available. Last but not least, you may also inquire at your neighborhood library or community center; these places frequently include art collections that can be borrowed and displayed privately. It is possible to find lovely things without spending any money at all with a bit of ingenuity and exploration.
Why is black and white art good?
Black and white artwork is a classic that never goes out of style. It has the potential to set the mood for peace and quiet while adding dimension and texture to the space. The versatility of black and white artwork allows for a wider range of color combinations when furnishing a space. On top of that, people on a tighter budget can more easily find black-and-white pieces than those with a variety of colors or patterns. In the end, black and white artwork is a simple and cost-effective solution for homeowners to brighten up their homes without having to worry about introducing any jarring color or design elements.

Conclusion
No matter your taste or budget, there is a wide variety of alternatives available to you, including prints, pictures, and abstract patterns. The right hanging methods make it simple to make a show-stopping installation in any room in the house. Putting up some black-and-white wall art is a great way to give your home a classic aesthetic that will last for decades.
Do you seek to make your house more distinctive? If you're looking for high-quality wall art, your search ends at WallArtXL. Seek creative ideas for your wall art with our numerous blog posts.